CROSS KONCERT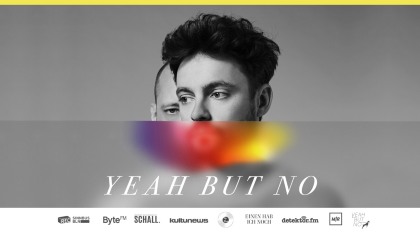 Yeah but No (DE)
Berlin-based Electro/Pop duo Yeah But No announce the release of "Demons", the band's second album, as well as the next single "I Don't Want To Know". Being on the road constantly, Yeah But No have shaped and redefined their musical vision of the band. Dealing with inner and outer conflicts and contrarieties, "Demons" is a slightly darker and
more mature piece of music than the bands previous releases. Following the nervours, rhythmically driven "Caught Between Stations", this new track highlights the more Wave-ish / Electro elements of Yeah But No. "I Don't Want To Know" is a comment on the climate crisis. It's knocking on our doors, but we shut our eyes, ears and mouths. Yeah But No is comprised Douglas Greed and Fabian Kuss. Merging electronic music with classic
song structures into a smart and captivating listening enjoyment is the band's objective ever since they started collaborating. They released their self-titled debut album in fall 2017, followed by extensive touring, and accompanied by a couple of carefully curated remix EPs containing contributions by friends made along the way, and artists Yeah But No became friends and fans of.
The likes of Daniel Brandt, Karmon, Marc Holstege and many others delivered stunning interpretations of Yeah But No's music, expanding the band's wide range from elegant deep house to fiddly electronica to hypnotic techno and great pop music.
+ host / guest