DNB FIRE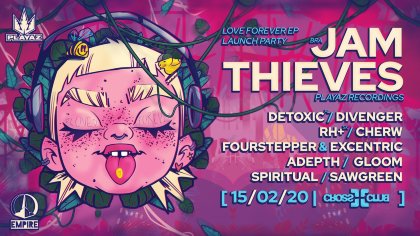 Ustálená značka DNB FIRE, si do hledáčku zaměřila velice zajímavého hosta až z daleké Jižní Ameriky.

Je jím Jam Thieves, Brazilské duo, vydávající deep a minimal DnB na legendárním labelu DJ Hazarda, Playaz Recordings.

V únoru budou úplně POPRVÉ v České Republice a ty je můžeš zastihnout na třech místech republiky.
A jedním z míst, kde se zastaví zahrát, je právě Cross Club, úplně ideální místo pro tento počin.

Jam Thieves jsou bratři Guilherme a Neto a projekt JT založili v roce 2007. Od té doby byly jejich tracky vydány na labelech jako Playaz, V Recordings, Proximity, Radius, Mac 2, Syndrome Audio, Animated, Hangar Records, Broken Audio a Chronic.

Z počátku roku 2014 vydala tato dvojice EP nesoucí název "Smoke Weed" na labelu Serial Killaz Recordings. Tomuto titulu se dostalo velké podpory od velikánů jako DJ Hype, Hazard, Randall a podobně.
Roki 2016 byl pro ně zlomový - podepsali se exkluzivně pod legendární label Playaz a od té doby vydávají pouze tam. Začali hned s velmi silným EP "City On Fire". Od té doby vydali další 4 vydařené EPs - "Minimal Funk Project", "Hackers EP" a "After Blast EP" a úplně nejnovější "Love Forever EP"

Ukázka Minimal Funk Project:



PŘEDPRODEJ / PRESALE
Vstupenky k dostání také na místě / Tickets also available on the door
Jam Thieves (BRA)

Detoxic (PL)

Více info soon....

LOOSE LIPS IN PRAGUE
Following the scenes of our debut event at Prague's Cross Club last November, we're back again with some more slanted techno, electro & breaks.

Once again, we're joined by a headliner whose productions, label And overall work in music, has inspired us to do what we do. Joined by Prague-based friends Schwa & Alek, with Physik & Medallion Man over from the UK representin'!

www.loose-lips.co.uk




FULL LINE-UP:





A modern spearhead of Acid House, resident & boss at long-running club night & vinyl-only label 'I Love Acid", and also running Balkan Vinyl.

Joshu has run well over a hundred parties since 2007 across the UK & Europe - with current regular residencies at Pickle Factory in London and Gorilla in Manchester.

The duo have an extensive back catalogue of 12"s on labels the like of Tusk Wax, X-Kalay, Dixon Avenue Basement Jams, Body Work, Craigie Knowes, Shipwrec, Chiwax, Acid Avengers, B12 Records as well as their own imprints.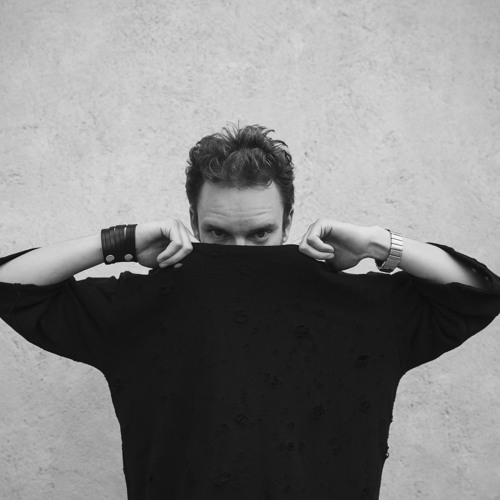 For years and years, he has been stirring the wheels of Prague underground scene, as DJ, producer and promoter of the Komiks events. You might also came across Schwa's acid infused EPs under his imprint "Beef Records" and other heavy weights such as Compost Black, XLR8R, Flight Recorder, Otake, Large.

Komiks, his party brand is also a big influence towards Prague's music scene. Komiks has hosted many legendary acts such as Derrick May, Kink, Deadbeat, Edward, Bjarki, Bambounou, Robert Hood, David August, Tornado Wallace, Palms Trax, Moscoman and many more in their alternative rave parties using old industrial warehouses packed up with art installations and experimental lighting.

Between 2006 and 2014 Michal was living in Australia. He was often touring Asia and held residency at Sydney's afterhours club Spice. On top of his busy schedule, DJ Mag also granted him in the top 50 albums of 2012 for his album "Soul Machine" with his partner in crime, Nick West under their "Shades of Gray" moniker. Since early 2018 is Schwa also hosting Beef records monthly radio show on 199radio London.

Through his studio production work and parties, Schwa's music selection has curated into a passionate and open-minded collection. His passion covers all aspects of electronic music ranging from house, to electro, acid, electronica and all the way up to the heavy rave music. There are few boundaries.


Alek


One of our newest crew members. Macedonian genius, former show host on Skopje's legendary institution, Kanal 103. Now hosting a regular show on Threads* (Threads Radio's 2nd channel).





Medallion Man is co-founder, resident, and the driving force behind Loose Lips. Since its launch in October 2014, he has directed our growth into a well-respected and ever-ambitious diverse musical platform, curating all events, label releases, charity work, mix series, radio shows and directing the blog's activities. His own DJing continues to blossom alongside the wider project, seeing him regularly DJ around the UK & Europe, gaining a reputation for eclecticism and intriguing mixing.


Credit to Jasper Golding on the design!