CROSS ATTIC
Come and Find Me By The Cactus • Alyssa Dillard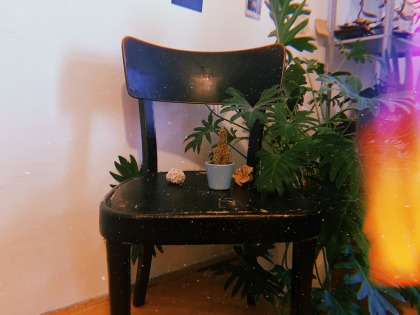 Come and find me by the cactus is a one on one performance experience and installation that explores the connection between selves, audience and performer, human and human. The participant is offered 3 ways of interacting and they have 15-30 minutes to interact based on the choices they make. This performance takes up corners of spaces, common areas, secret spots, and public areas. There are cacti involved. 

Performance times / Saturdays at Kavárna klubu Cross
08.02. / 15:00-19:00
14.03. / 15:00-19:00
28.03. / 15:00-19:00 / in frame of Žižkovská Noc 2020

Reserve your slot directly at: contact.alyssadillard@gmail.com

Entrance - voluntary

Come and find me by the cactus is finishing her masters in devised and object theatre at the Academy of Performing Arts Prague (DAMU). 
She is currently working on intimate one on one performance and continuing her durational performance "Marie Antoinette Walks Down An Elegant Hallway Knowing Everyone Hates Her" and a new project called "Sueños de Columbus" a satirical experimental band with two friends who work as a DJ in Spain and a Composer in Italy. 

She really enjoys hanging out with her dog Tamara and roller skating.