DIMENSIONS FESTIVAL & CROSS CLUB presents: SOUL & SIN w/ HUNEE (RUSH HOUR) &DIMENSIONS SOUNDSYSTEM (UK)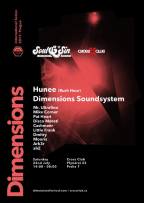 Představte si noc v klubu, kde do vás hudba nestrká, ale unáší vás. Kde vás namísto agresivního beatu obklopují melodie, a kde je hutný rytmus zabalený do basové linky hřejivé a hluboké jako vana plná tekoucí čokolády. V klubu přestává vládnout temnota, střídá ji Soul&Sin.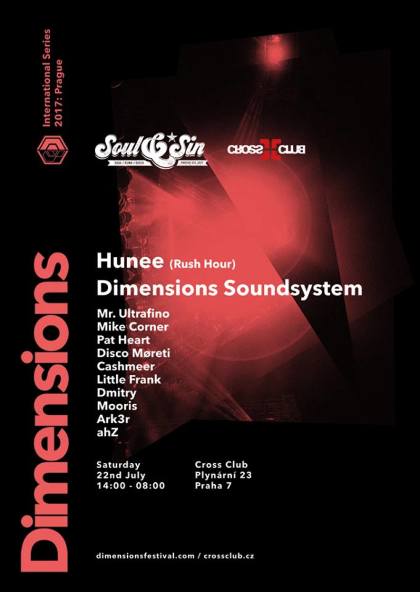 Soul&Sin je nová klubová noc založená na spolupráci Cross Clubu s festivalem Dimensions, na jehož pódiu se střídají DJové a muzikanti jako je Grace Jones, Massive Attack, Jeff Mills, Theo Parrish, Floating Points, Nina Kravtiz nebo Danny Krivit.
Na prvním vydání se 22.7. představí jako hlavní host Hunee - tvář a spirituální reprezentant nezávislého labelu Rush Hour. Výraznou postavou alternativní klubové scény se stal hned po vydání prvního EP Tour de Force, na kterém se hrdě přihlásil k moderní podobě hudby 70. a 80. let, která formovala jeho hudební cítění a projev. Od té doby má za sebou desítku releasů, nesčetně spoluprací a plné kluby od Berlína po Tokio. Vystoupení Huneeho a jeho kolegů z Dimensions Soundsystem podpoří skupina pražských DJů, kteří soulovou tvář klubové hudby pravidelně zařazují do svých setů, a kteří se postarají o to, aby celá noc byla soulová i hříšná.
Lineup:
HUNEE (Rush Hour)
DIMENSIONS SOUNDSYSTEM (uk)
Mr. Ultrafino
Mike Corner
Pat Heart
Disco Moreti
Cashmeer
Little Frank
Dmitry
Mooris
Ark3r
ahZ
22.7. 2017
DO 21:00 ZDARMA / po 200 CZK
Dimensions Festival & Cross club presents:
Soul&Sin
with
HUNEE (Rush Hour) &
DIMENSIONS SOUNDSYSTEM (uk)
Imagine a club night where the music is uplifting rather than pushy. A night, where you are surrounded by tempting melodies without being attacked by an aggressive beat; A night where the rhythms are strong and basslines are warm and deep as a tub full of melted chocolate. The age of club darkness is over, the change comes with Soul&Sin.
Soul&Sin is the new club night presented in an exclusive collaboration of Cross Club with the so-much-talked-about Dimensions Festival, which hosts DJs and musicians such as Grace Jones, Massive Attack, Jeff Mills, Theo Parrish, Floating Points, Nina Kravtiz or Danny Krivit.
The first edition of Soul&Sin, dated 22. July, will introduce none other than Hunee – the face and spiritual representative of the Rush Hour label. Hunee become a staple of an alternative club scene immediately after the release of his first EP Tour de Force on which he proudly embraced his musical roots and his love of 70s and 80s music presented in modern club sound. He has kept himself busy since then with ten vinyl releases, countless collaborations and full dancefloors from Berlin to Tokio. Hunee and his Dimension Soundsystem posse will be supported by the Prague DJs who have been for a long time carrying the torch of soulful club music, and who will make sure the night will be both soulful and sinful.
Lineup:
HUNEE (Rush Hour)
DIMENSIONS SOUNDSYSTEM (uk)
Mr. Ultrafino
Mike Corner
Pat Heart
Disco Moreti
Cashmeer
Little Frank
Dmitry
Mooris
Ark3r
ahZ
22.7. 2017
FREE ENTRY UNTIL 9PM / 200 CZK AFTER